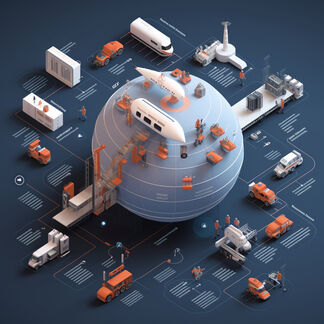 Aerospace Component Logistics: Enhancing Sales Support and Analytics
The Client
Our client, a leading global aerospace components supplier, sought a robust and comprehensive software solution to streamline their sales support processes and manage the complexities of pricing and inventory control. Reliant on using spreadsheets to manage an extensive product range comprising over 500,000 items, the company required a solution that can effectively integrate with their existing ERP system.
The challenge
The primary goal being to automate as much as possible to enhance operational efficiency, optimise inventory management, and ensure seamless coordination between various departments for a more agile and responsive sales process.
The Solution

#1

Bespoke system:

Comprehensive sales support system tailored to the specific needs of the global aerospace components supplier.

#2

Customizable Dashboard:

Customizable Dashboard: A user-friendly dashboard providing a comprehensive overview of sales performance, inventory status, and key metrics for quick decision-making.

#3

Advanced Inventory Management:

A sophisticated inventory control system to facilitate real-time tracking, stock management, and efficient order fulfillment.

#4

Reporting and Analytics:

Robust reporting and analytics tools to generate actionable insights, sales forecasts, and inventory projections for informed business planning.

#5

ERP Integration:

Seamless integration with the existing ERP system to ensure unified data flow.